Why is there a demand for digital marketing for doctors?
A doctor's office isn't the typical e-commerce business that can throw together a website and start advertising for new customers. For one thing, many doctors specialize and require specific advertising needs. For example, if you're a plastic surgeon, you might need advertising that focuses on laser surgery.
Additionally, most doctor's offices are affiliated with larger healthcare networks that have large advertising budgets. The result is a patient base that probably makes spending lots of money on digital advertising less critical. That said, today's modern doctor's office would benefit from at least some digital marketing.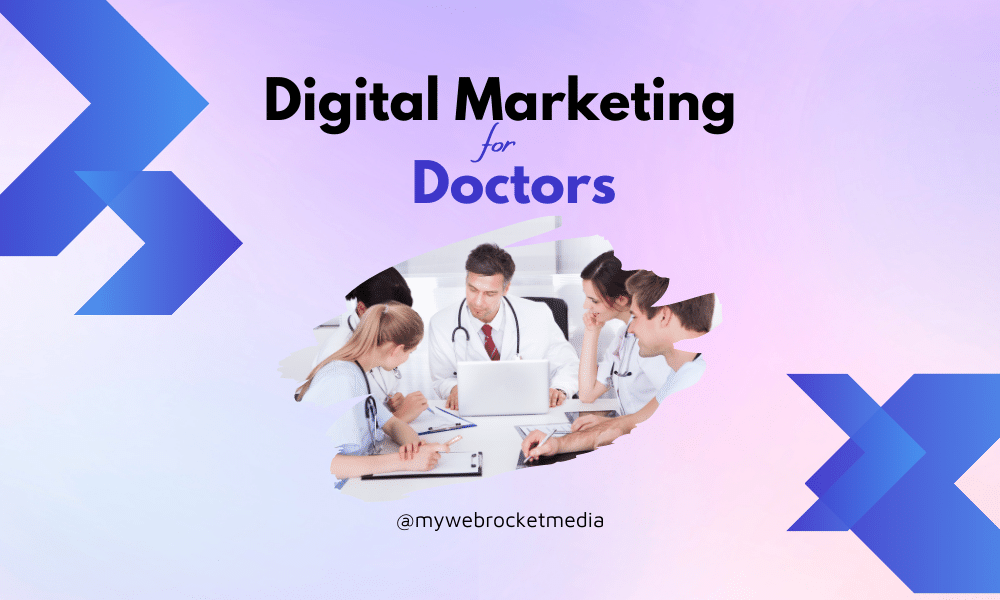 The Benefits of Digital Marketing for Doctors
Even if you're affiliated with a larger healthcare network, some targeted digital marketing for doctors will benefit your practice. But how do you find the right digital marketing agency for your practice's marketing needs? The simple answer is finding a digital marketing agency that specializes in digital medical marketing. With a wide array of online services, Web Rocket Media specializes in digital medical marketing.
Understanding how digital medical marketing benefits your practice, and in turn, makes it more success comes from understanding the big picture. Digital marketing for doctors addresses the medical services doctors provide for their patients. In the digital space, doctor-provided services encompass many things that benefit your practice. Listed below are three things that digital marketing for doctors can do to make your practice more successful.
1. The Modern Doctor's Practice Website
Digital marketing gives a doctor's practice a place in cyberspace to call home. However, a doctor's practice needs more than an average click and create a website. Given the types of medical services available in the digital space, a doctor's practice website must be an extension of the brick-and-mortar office. Think of the website as a digital doctor's office, one where a patient visits for medical services.
Another thing the modern doctor's practice website provides is the patient portal. Over the past decade and a half, doctor's practices had to digitize all patient health records. Today, patients have access to many of these records. Conversely, through patient portals patients can get lab results and other important information. Marketing patient portals as a website feature could attract new patients.
The COVID-19 pandemic showed us that much of what we used to do in person can be done just as effectively online. Nowhere is this truer than in healthcare. For example, many patients can be seen through web conferences or talk to a doctor over the phone. As such, a doctor's practice's website should have reliable telecommunication services.
A digital doctor's office should be a website that patients want to explore and want to wait for medical services. That said, a website designed as a digital doctor's office should be designed by experts that understand how to use graphics that attract patients. The digital doctor's office must also be efficient and fast, meaning no lag time when patients click a link. 
Now imagine a digital doctor's office designed and run from an e-commerce perspective? This e-commerce perspective brings in everything that traditional digital marketing has to offer. Consequently, a professionally created website intended as a digital doctor's office can be search engine optimized. Known by its shortened name, this optimization is SEO, perhaps the most important thing a doctor can do to attract patients.
2. Digital Marketing Bolsters Reputation
Doctors heavily rely on reputation, which is where digital marketing can have a significant impact. Of course, a well-designed digital doctor's office helps develop a doctor's online reputation. However, the digital doctor's office is just the beginning. From social media to reviews, web Rocket Media are experts at developing marketing for doctors.
Social Media

-One thing that makes a doctor's practice more successful is a social media-driven marketing campaign. The idea is to go where the people are. These days it's numerous social media platforms where people hang out and share information. Such a marketing campaign potentially bolsters a doctor's reputation because the doctor's office interacts with patients and potential patients.

Patient Reviews

-There is no better way to bolster a doctor's reputation than with patient reviews. Without going too far off track, the modern

Medicare

reimbursement fee structure relies in part on patient reviews. It goes without saying that bad reputations lead to fewer patients. Therefore, using review sites such as Yelp can bolster a doctor's reputation. This then leads to more patients because people develop trust.
Social media marketing and patient review marketing are used together to develop social capital, a marketable way of connecting people to doctors through trust. Most people trust doctors, which makes social media platforms ideal for sharing useful information. Some information that can be included in social media posts include:
Basic health tips, particularly those aimed at a specific type of patient like someone with diabetes.

Vaccine reminders, i.e., flu shots, shingles, and COVID-19 vaccines.

Things that make patients feel good. For example, photos of staff birthday parties and fundraisers.

Instructional information in the form of recent studies and other medical-related health information.
3. Digital Marketing Helps Get Doctors Noticed at the Local Level
Patients go to local doctor's offices. That's just the nature of a doctor's practice. Thus, a doctor's website must show up in the search results at the local level. Creating a Google My Business (GMB) page is a sure way to improve local search results. The best thing about GMB is the price—it's free.
Additionally, a Google My Business page shows things like location and patient reviews. This is valuable information for a digital marketing agency that knows how to apply SEO best practices to custom-designed websites. The SEO experts at Web Rocket Media understand the importance of local search results. They get results that make doctors' practices more successful.
Conclusion
To get the best success from digital marketing for your doctor's practice, you need experts that specialize in digital marketing for doctors. Web Rocket Media's digital marketing experts are a full-service provider of website development, patient review management, SEO, and social media-based advertising. Contact Web Rocket Media today and find out what we can do for your doctor's practice.